WELSH SECTION B PONIES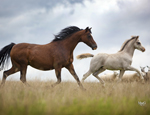 Welsh Section B ponies under the Wedderlie prefix are all descended from a Foundation Stock mare, Megan, purchased as a three year old in 1944.
Unknown to us, she was in foal and produced Luckpenny, so started a dynasty of children's ponies by Welsh, Arab (Sitaab and Sabhan!) and part-bred (Morning Magic, Papillon de Matin) or TB (Robin of Don) Stallions. Wedderlie Mercury Bay, Martha, Marvel, Melanie etc were all part bred descendants before once more returning to Welsh!
Broodmares have included Mermaid, Marina and
Marianne.
Marianne's foal by Eyarth Rio, Martina, had been sold to the Waxwing Stud, where she produced some lovely ponies by Eyarth Beau Geste and Moelview Mohawk and after my mother's death in 2010 they very kindly returned her to Wedderlie.
The following year she produced a beautiful filly, Maribelle, by Eyarth Beau Geste, who will be kept as her replacement and this year we have a colt, Martell, by Eyarth Mercury.
Marianne's last foal, Mariella (2009) by Moelview Mohawk has been retained. Mariota (2004) a full sister to Mardi Gras has produced
Marmaduke
(2008) by Moelview Mohawk, sold to Gretchen Aitken in America, Marco (2009) sold to Katie Lindsay Brown to be produced in Novice ridden this year. Her foal in 2010 by Heaton Romeo unfortunately died and Marsman (2011) had to be put down following an accident. This year her colt foal, Marwin, by Eyarth Mercury is destined for Sweden!
Both Marina and Mariota have been covered by Llanarth da Vinci this year.