ABERDEEN ANGUS CATTLE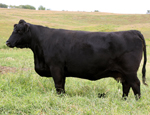 HK Tibbie 86K
The Wedderlie herd was established in 1913 by Major W A Baird with the purchase of 4 heifers and the first registrations in 1914 included a bull, Edgar of Wedderlie & two heifers, Evelyn & Princess Royal.
The herd is now run by John & Marion Tilson and their daughter Wanda Hobbs who continue the legacy left by Marionís grandfather Capt. Tom Elliot (who bought the herd in 1942) & her parents, Jock & Jenny Campbell. Wanda established her own herd with the Ellin prefix in 1996, with the purchase of Evelina V32 of Eastfield descended from a Wedderlie cow!
Our objectives are unchanged - to produce cattle that are productive & commercially profitable & with 200 cows we are well placed to supply bulls & females for different management systems. The surplus, from a strict selection process, earn the AA premium in the finished market. Although showing may bring rewards we believe it does not truly reflect the requirements of commercial producers!
Our cows are based on a few families that have stood the test of time after six decades of selection pressure. Strict attention to maternal traits, fertility and udder quality are balanced by demands for performance so that we have a herd with a tight calving pattern but can still win the Marks & Spencer AA Beef Finishing Competition against pure and cross bred herds! We purchase bulls on phenotype first Ė they must be structurally correct, 100% on feet & legs & have a good temperament. Then we look for a balanced set of above average EBVís to complement our cows. We use yearling homebred sons on heifers to calve at 2 years and find that linebreeding produces consistency and prepotency. Sales of bulls on farm have increased considerably in recent years often from satisfied repeat buyers.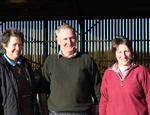 Marion and John Tilson with their daughter Wanda Hobbs